The DoD has begun to discuss high level elements of a project to build a hypersonic UAV system, currently working under the name Falcon Blackswift. The details that have emerged thus far are quite tantalizing. From Wired:
According to the few details available on Blackswift, Lockheed Martin's famed Skunk Works shop is the main contractor for the vehicle. DARPA, in fact, still isn't talking about Blackswift; it's using the HTV-3X designation. But HTV-3X is a departure from the previous Falcon program. Careful observers at last week's DARPATech, like Bill Sweetman, noticed some important elements: "Key features – apparent from images snagged from DARPA video, and from other sources – include the fact that HTV-3X is an unmanned, fighter-sized aircraft."
My friends and some readers of this blog know that back in the early 1990's I had a fascination with suspected research activities into hypersonic reconnaissance aircraft that would, from time to time, overfly southern California. The secrecy around what was known in some circles as "Aurora" was at times laughable. One of the most recognizable traits of this platform would be a "skyquake", an unusual tremor that had many of the same effects as the earthquakes we have all over California. From the SD Union Tribune about an event April 4th, 2007:
But to the astonishment of everyone, a quake wasn't the culprit. Within hours, both the U.S. Geological Survey in Pasadena and the Scripps Institution of Oceanography in La Jolla issued statements saying no earthquake had been detected.

Last week, USGS spokeswoman Stephanie Hanna said the agency stands by its initial conclusion.

"No, it wasn't an earthquake," she said. "We haven't changed our minds about that."

By noon on the day of the incident, The San Diego Union-Tribune was being inundated with e-mails from people wondering what could have caused the strange tremors.

"My garage door is double steel and it weighs about 500 lbs.," a man in University City wrote. "It was rattling back and forth like a leaf in the wind for about 3 or 4 seconds."

A Mission Beach resident compared the sensation to "somewhere in between an explosion and an earthquake." A woman in Carmel Valley noted that the rattling was very distressing to her cats.
Windows would shake, lights would sway and there would be a distinct low frequency sound that would spook animals. This particular incident (April, 2007) was even more interesting because I was in IM Chat with one of my team who was in Encinitas at the time (I was about 12 miles away in Escondido). He IM'ed me that he was having an earthquake, though the ground here was not shaking, then several seconds later, the shaking passed over my house. Once again headed from the ocean towards points north east.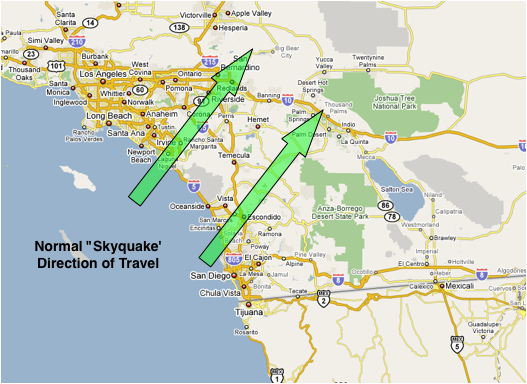 These were a bit special in that the epicenter was never measured by their depth in the earth. Though seismometers would record them, they would not have typical earthquake wave patterns. In fact, the focus of the shaking also seemed to move in fairly direct lines towards Nevada. At something above mach 3 and decelerating.
The anomaly, whatever it was, also created a unique sound that could be identified while it was in transit over head, and would occasionally create a unique contrail that some observers attributed to it's unusual engine design.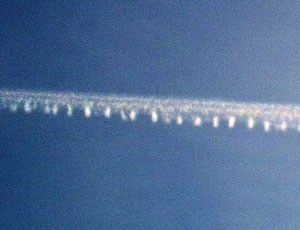 After a while in the mid 1990's these things stopped, either because whatever platform that created them was retired (it was always theorized Aurora was an experiment) or the equipment they had developed to suppress the shock waves, the noise and the contrails became more reliable.
With the failure of NRO's next generation platform, FIA (Future Imagery Architecture), there may be renewed emphasis on something more flexible and more maintainable than a huge orbital platform.
Air breathing recon platforms have some advantages, such as no regular orbits and the ability to loiter over an area of interest for a much longer period of time.
With the Blackswift project, the DoD may finally ready to lift the veil on what they have been cooking up in their research labs the last 20 years or so when it comes to hypersonic vehicles. Frankly, I can't wait.
[SuperMondo Video Update]
Of course YouTube has some CGI renderings of one of the designs buzzing around in animation form.
Bill Sweetman from Aviation Week also has posted about this project over the weekend on his blog:
More reports suggest that the FY2009 budget will indeed include money for the Defense Advanced Research Projects Agency (DARPA) hypersonic demonstrator, named Blackswift. It's a $750 million program to produce a small unmanned demonstrator – F-16-size or smaller – that will be able to fly off a runway, get to Mach 6 or higher, decelerate and land under power, using relatively conventional fuel.
At $750M, they are doing some serious work in Palmdale (Skunk Works) and supporting facilities.
Bruce Henderson is a former Marine who focuses custom data mining and visualization technologies on the economy and other disasters.